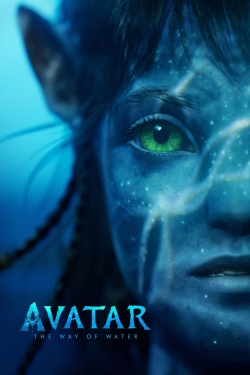 Avatar: The Way of Water - 
2022
2022-12-14
Set more than a decade after the events of the first film, "Avatar: The Way of Water" begins to tell the story of the Sully family (Jake, Neytiri, and their kids), the trouble that follows them, the lengths they go to keep each other safe, the battles they fight to stay alive, and the tragedies they endure.
Genre:
Actors:
Reviews
2022-12-17 06:28:21
It always has to be 1 smart asshole commenting on someone else comment! And was cheap too and here too trying to watch it! I hate that 🤬 Everybody that want to complain you should be able to without a strangers criticism! That's why every other tooth missing from someone knockin
2022-12-17 12:32:23
this was the most awesome 3 hours of a movie I have ever seen this was dope very sad and emotional but very dope can't wait for another one we need another one but it doesn't really make sense to have another one but we need another one
2022-12-18 19:33:00
good movie but them visual affects, the A.I. art, or whatever is fuckn beautiful!! n I thought the 1st one was beautiful, I am watching it on my iPad but I bet inside a theater or on a big ass TV it would look epic!! such beautiful scenes and affects. great job!
2022-12-17 06:31:18
his smart ass in the mouth! weirdo! Who waits around to comment on another's fucking comment! Can't stand those MOFOs! Get out your mom's basement and take your ass to the movies! WEIRDO ASSHOLE😜🤪🙄!
2022-12-17 19:17:01
I love this movie. watched it twice. 3 hours long . well worth the wait. For only $4.99.. I wish NAterri was my wife. That s a ride or die chick right there, she went Crazy after they killed her son. She was always ready to fight the skypeople.. Fucking love that crazy women!! [0
2022-12-15 04:45:57
bro it's December 14, the day it says it was going to be out, and it still won't load. 😒 WTF. like seriously I was so excited to finally watch this movie, I've been waiting for 2 years
2022-12-26 04:35:37
I'd love to know what they are saying. I'm sure the subtitles was in English when it was recorded. So why is it different on here? I'm still thankful to watch it. Great movie. Merry Christmas 🎄 to you all.
2022-12-23 08:48:08
Great movie!!! Reveals so many similarities to the human condition. At odds with one another, over such insignificant differences. When we have more in common than not. God only knows what the human race would be, if we could come together.