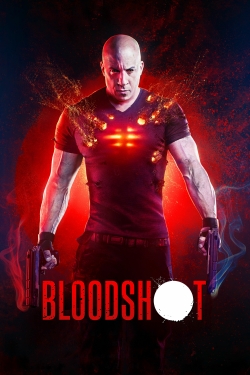 2020-02-20
After he and his wife are murdered, marine Ray Garrison is resurrected by a team of scientists. Enhanced with nanotechnology, he becomes a superhuman, biotech killing machine - Bloodshot. As Ray first trains with fellow super-soldiers, he cannot recall anything from his former life. But when his memories flood back and he remembers the man that killed both him and his wife, he breaks out of the facility to get revenge, only to discover that there's more to the conspiracy than he thought.
Genre:
Actors:
Reviews
2023-02-07 04:10:03
10 out of 10 stars I luv 💞 this movie and luv vin diesel Soo much and the gurl who also played in this movie too both of them Soo luved but the dark hair gurl luved more
2022-11-14 15:59:09
damn this was one hell of a movie 🍿🎥 I give this one 1.000,000,000,000.00% all good 👍🏾👍🏾👍🏾👍🏾👍🏾 ⭐⭐⭐⭐⭐⭐⭐⭐⭐⭐⭐
2023-03-29 10:49:35
Awesomely but the watch is over and over
2022-09-22 07:30:15
hell of a Syfy action storyline with the good guy is Vin des
2022-12-17 16:02:47
but who was the hero? Not Vin . give up? the black guy. So yes this is a awesome movie!
2023-06-17 10:59:03
this shit is a bomb 💣💣
2023-03-19 08:33:35
ONE OF MY FAVORITE MOVIES‼️👍🏾💓🔥🤩❤️❤️❤️❤️❤️❤️❤️❤️❤️❤️❤️❤️❤️
2022-12-29 15:15:06
from the top of all Vin Diesel movies this one is the good one