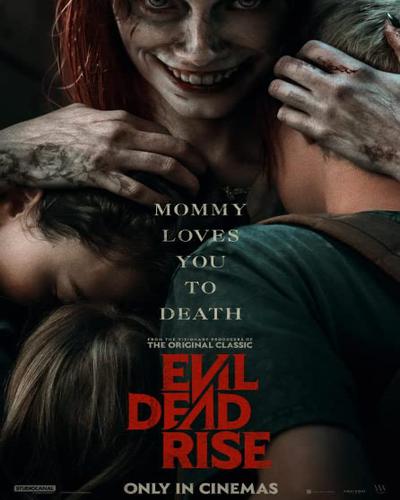 2023-04-12
Two sisters find an ancient vinyl that gives birth to bloodthirsty demons that run amok in a Los Angeles apartment building and thrusts them into a primal battle for survival as they face the most nightmarish version of family imaginable.
Genre:
Actors:
Reviews
2023-04-24 17:58:55
I know I've been waiting forever for this movie. there old version of this app had the movies out before theaters this one can't even get them out a week after there release.
2023-04-27 00:19:11
guys I'm new and I'm all ready likeing the app and I am very excited and I've always wanted to see evil dead rise but I didn't know about the app if it wasn't for tiktok and I. so happy that they have this app and now I'm addicted to this app😂
2023-04-26 00:39:03
really enjoyed this. just watched 2013 again last night. Best scene hands down is the peep hole shot where theyre watching her go crazy in the hallway. cheese grater made me cringe lmao also the concept of her being locked out apt was cool nod 2 the cellar from past movies
2023-04-25 07:17:43
omg yes good and scary love it been waiting forever for this movie and it did not disappoint 👏
2023-04-24 22:53:52
Yeah I do not care for this version at all the old one made sure them movie's were here very fast But now have to wait weeks man..
2023-04-26 03:47:18
I'LL STAY WATCHING THE OLD EVIL DEAD DO TO THE FACT THIS WASN'T THAT GREAT AND WAS VERY MUCH DUMB TO🤷ME SORRY MY OPINION BUT UUM 🙏 FOR UP LOADING IT BUT WASN'T THAT INTERESTED TO ME LITTLE FUNNY BUT NOT AS SCARY AS THE ORIGINAL EVIL DEAD
2023-04-28 03:27:45
shit was good they modernized it so we won't have to see the same movie over n over different great theme I like the changing from the cabin regular old school shit n they still gave us that in the begining so 10
2023-05-17 01:48:58
For the ones who said it wasn't scary, not worth watching, boring... y'all clearly wasn't watching the damn movie. Might've was watching the bad version of it, instead of the better version. Should've waited til the HD version came on here. It's good, just like the other ones.