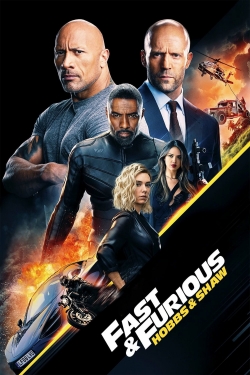 Fast & Furious Presents: Hobbs & Shaw - 
2019
2019-08-01
A spinoff of the Furious' Fate, focusing on Johnson's US Diplomatic Security Agent Luke Hobbs forming an Improbable alliance with Statham's Deckard Shaw.
Actors:
Reviews
2022-05-25 08:00:00
If you like FF at all. Then you definitely going to love this spinoff. It has a lot of funny moments and great acting from Idris Elba. But it definitely dragged on a little bit too much.Hopefully they just make this into its' own series. I rather watch this, compared to what happened to the main franchise.
2022-05-07 08:00:00
It's almost like they don't know how to make interesting realistic movies anymore. Everything has to be CGI and everyone is a super hero with super powers and physics don't apply to these stupid movie. I mostly watch these just to laugh at how stupid this franchise has become lol.
2021-12-28 08:00:00
Director David Leitch made his name in action films and here provides a lot of stupidly preposterous action sequences. Some go on for too long and get even more absurd. One example is all the vehicles all locking on to each other to try and bring down Brixton's helicopter.
2022-06-20 08:00:00
This ensemble cast has masterfully delivered a beautifully written script filled with touching monologues and snappy one-liners. I laughed and I cried. For me this is a modern classic. Hope this review helps you.
2022-06-13 08:00:00
It has already become my favorite in the franchise, just because of the fight between the delicious duo Dwayne vs Jason, there's no way not to love, besides Ryan, the best characters in the franchise, Vanessa did well, but I missed the wonderful muscular muse Michele...
2023-08-17 06:29:54
1. favorite fast and furious movie 🎬 hobs and shaw are both my favorite characters of the fast frantrice great action scenes funny moments great villain and Kevin heart ❤️ 💙 💜 is in this movie 🎬 🎞 this is a fantastic movie 🎬 🎞
2022-04-20 08:00:00
This was so a$$.Wasted like two hours of my life I'll lever get back.Who tf is named Hobbs?Bruh I hate this movieHshshshshsgsgshshshshshshshshshshshshshshshs.
2023-01-16 17:01:50
l [00