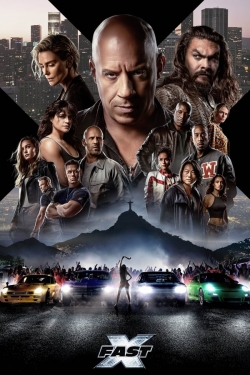 2023-05-17
Over many missions and against impossible odds, Dom Toretto and his family have outsmarted, out-nerved and outdriven every foe in their path. Now, they confront the most lethal opponent they've ever faced: A terrifying threat emerging from the shadows of the past who's fueled by blood revenge, and who is determined to shatter this family and destroy everything—and everyone—that Dom loves, forever.
Actors:
Reviews
2023-05-23 12:52:20
honestly this movie is trash it's basically every one dieing throw out a movie that's wrapped in a whole bunch of hell no or gtfoh moments the ending made no sense sad how they ended this whole franchise 😭😭😔😮‍💨
2023-05-24 03:10:21
Fast and Furious 10 I loved it I love Fast and Furious so much number 10 because it's actually quite good on this good movie House people like the new Fast and Furious and chat
2023-05-25 06:27:50
garbage. they should just stop making them. Should've just stopped after Paul Walker died. these movies are just so out there. then bring back the woman that died as they did Han. come on now. screenwriters definitely just said action action forget a story line that makes sense
2023-05-24 12:35:11
so da movie was good until dat BS ending yall no they got out dat plane rgt ... And Dom and his son didn't Die yall no dat rgt ... Dis movie had me Emotional lol I had to take a damn Valium no lie but I love da fast & furious fam I'll be on da look out for the sequel [006007[001[
2023-05-23 03:19:49
YOOOO!!! , that ending!!! I teared up watching her again, she is one of my favorites!!! I'm glad she is back!!!!
2023-05-23 08:12:59
yeah but how can they leave you wondering how does Dom and his son get out of this mess that ruined the whole movie
2023-05-24 19:33:41
ok there crossed so many lines I hit a pot hole broke a ball joint that charger fell from a plain and pulled helicopters smashed through concrete no and they bring a dead women back after the dead guy came back what are they doing 1&2 are the best the rest are kinda a joke [
2023-06-15 10:30:17
awe man fuck y'all can't won't be satisfied looking asses the movie was good some of y'all so damn stupid I'd bet you didn't watch the full ending it's called umm setting up a sequel shaking my head