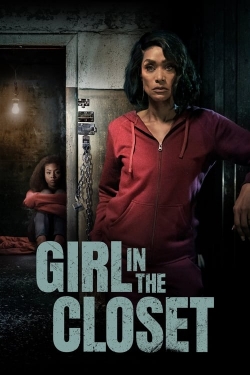 Girl in the Closet - 
2023
2023-03-11
Based on real-life events, Girl In the Closet tells the story of 10 year old Cameron, who, after her mother suffered an aneurysm, was adopted by her Aunt Mia, who already had a husband and daughter of her own. Soon after arriving in her new home, Cameron started hearing strange, ghostly voices at night coming from the basement's locked door. Little Cameron would soon discover what was actually behind that door, people chained to the wall, innocent victims of her Aunt's schemes to enrich herself by cashing their benefit checks. It wasn't long before Cameron was demoted down into the basement herself, where she would stay for the next ten years while police thought she was missing.
Actors:
Reviews
2023-03-16 16:11:46
it was a great mo is I just wish they showed Remy character fighting more to find her daughter. Tammy is becoming a great actress
2023-03-19 12:33:10
Great movie. Depicted the storyline of what really happens in life. Not every exit for the real victims was that easy, as the movie has shown. Basically, these victims each had their own personal issues and relied on the wrong person for help. Forster care, kin foks, shelters,etc
2023-03-19 02:42:08
40 people on the airplane and you had three people take control with a pocket knife and a fingernail file OMG now everyone is dead because no one had the mind to think of taking a belt off and hit the people that was hurting them super sad 😢😭😭😭😭😭
2023-03-19 02:39:03
why couldn't that girl just break and run every chance she got she just stayed there for the abuse I mean sometime in one's life you got to learn how to fight with enough is enough and you can think think about being free that's right I understand how 9/11 to place you had over 4
2023-03-21 09:16:42
I wish I could remember the chicks name that was defending the Free Mason's and Cops I was talking about! She needs to watch this movie to understand, I'm not talking about good Cops & Good Free Mason's!! I'm talking about the Dirty one's like the One Cop in this "True Story"!
2023-03-18 03:26:38
WOOOOW! I had to stop and come back to watch because it was awful. This is a really good movie, but it was tough to watch. That woman and her crew were demons straight from hell. And it's based on a true story? Wow!
2023-03-17 13:48:18
when she told her to get the medication from the medicine cabinet i would have ran than
2023-03-16 12:20:00
Tammy and Remy ma both did a great job in this film 10/10