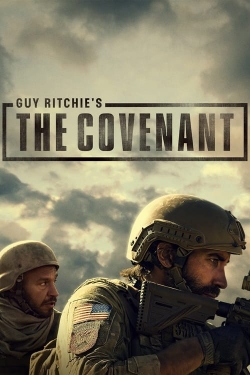 Guy Ritchie's The Covenant - 
2023
2023-04-19
After an ambush, Afghan interpreter Ahmed goes to Herculean lengths to save US Army Sergeant John Kinley's life. When Kinley learns that Ahmed and his family were not given safe passage to America as promised, he must repay his debt by returning to the war zone to retrieve them before the Taliban hunts them down.
Actors:
Reviews
2023-04-29 23:43:33
ppl complain about everything take ur asseessss to the mfkn theatre then
2023-05-02 08:20:37
it's so satisfying watching things for free.. even if the ads are aggravating and the movie is bootleg. it feels good knowing I'm getting a $20 movie ticket for free
2023-06-07 13:35:39
to the people that did not like this movie put yourself in the shoes of the people that helped America troops their lives was on the line in their own country America own damn every country for the people that put their lives on the line for this country it's only right
2023-06-08 10:02:26
love this movie I just wish they're more people like them cause it doesn't matter where you're from but loyalty and respect goes along way, family or not !, we need to practice this as a believe it might make this world a better plaçe
2023-04-29 15:05:49
it was a good movie besides the guy that's filming it he shakes through the whole movie he's not focused but the movie itself is good
2023-06-01 09:55:38
Ill I keep thinking about is the thousands of allies the Dems abandoned in Afghanistan. They encourage millions of illegals to cross the southern border and leave our brothers in arms to be tortured by terrorists. great job Dems. you have blood on your hands
2023-05-31 11:37:26
one of the best movies I've seen in a while. I waited until it was on HD. The ideology of a bond that is not tangible but still very much alive was felt and understood. Pay your debts!
2023-04-28 17:10:15
was bruhh even in the theater while recording this or across the mf street🤦🏾‍♂️