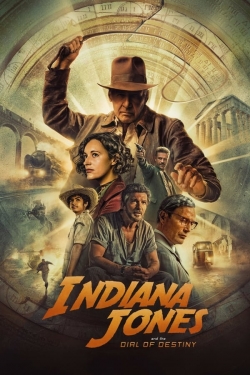 Indiana Jones and the Dial of Destiny - 
2023
2023-06-28
The plot is said to be based on one of the other books in the series.
Actors:
Reviews
2023-07-02 08:57:38
I thought it was good. I LOVE ALL INDIANA JONES MOVIES! It's INDIANA JONES!... I can't wait for it's update to HD. I will watch it again! I LOVE THIS APP!!!!
2023-07-04 09:25:37
it was a good movie but they should of kept short round in the movie instead of taking him out the movie.since this is Harrison Ford last indiana Jones movie they should of let him reunite with short round.that was the kid that was in indiana Jones 2.
2023-07-03 02:49:39
No. Just no. Too much CGI. The great thing about the originals is they were filmed in the 80s so all the stunts and sets had to be real. Some CGI is okay if it furthers the story but this is just over the top.
2023-07-06 06:11:03
I think everyone will enjoy this movie. This is the last one, and I give it a A+. I'm 52 years old and I remember seeing Raiders in 1981. Thank you Harrison Ford and everyone who made this possible
2023-07-02 17:00:53
it was ok ... I love Harrison Ford.. Best Indian Jones was Temple of Doom
2023-07-03 20:14:12
awesome movie I his movie all of them he might be a old man but look like he can get around very good and everything u did very good job on this movie Indiana Jones it I even got some of your other movie on DVD
2023-07-07 01:31:31
I got excited because they brought back Indiana Jones the way he looked like a 1980s with the Ellen broke back the Germans sorry it did Nazis and then it kind of when you know not interested especially when the girl comes out and start messing things up and you begin to hate her
2023-07-11 18:21:51
We often take somethings for granted and we never know what we really had until it is gone. All of the family members, friends, football players, actors and this list could go on and on. If you by any chance still have your parents, maybe a sibling and a friend. Give them a [013