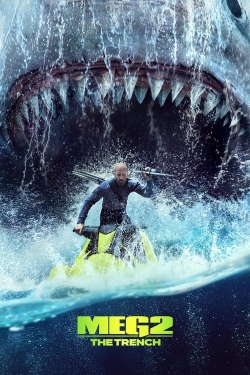 2023-08-02
An exploratory dive into the deepest depths of the ocean of a daring research team spirals into chaos when a malevolent mining operation threatens their mission and forces them into a high-stakes battle for survival.
Genre:
Actors:
Reviews
2023-08-06 11:40:47
this movie is so good 😊👍👍👍👍👍👍👍👍👍👍👍👍👍👍👍👍👍👍👍👍👍👍👍👍👍👍👍👍👍👍👍👍👍👍👍👍👍👍👍👍👍👍👍👍👍👍👍👍👍👍👍👍👍👍👍👍👍👍👍👍👍👍👍👍👍👍👍👍👍👍👍👍👍👍👍👍👍👍👍👍👍👍
2023-08-08 12:36:58
I MEAN THIS MY HONEST OPINION AND THAT IS I COMPLETELY FUCKS WITH THE FIRST ONE BECAUSE IT WAS PERFECTLY NORMAL THIS ONE WAS ALL OVER THE PLACE AT THE BEGINNING AND THEN A LITTLE IN THE MIDDLE,SHIT DIDNT START TURNING TF UP UNTIL AT THE ENDING OF THE MOVIE.SO SCALE FROM 1-10 IT'S
2023-08-11 07:56:08
This movie was "GARBAGE"... I can't Believe most of YOU SIMPS was actually Entertained by the BAFOONERY that was placed through our the ENTIRE FILM... And it Ends with a 70 Foot MEG on the loose in the Ocean, while they CELEBRATE like the Meg won't cause Anymore Problems... TRASH
2023-08-08 00:14:35
THIS MOVIE IS A HELL OF A SUMMER MOVIE WITH THE HEAT and All. to a
2023-08-09 16:05:22
I'm so sorry but this movie sucks then the first one was more better than this one they should have had the dinosaurs with the whole f****** movie only thing you see is sharks swimming through the f****** movie s*** Jaws was better than this one oh have y'all might not know what
2023-08-09 14:50:18
Ok, I finished the movie and it was Great. Dino, in which we only saw one, alligator slash fish things were nuts, the four or 5 megs , and the big ass octopus was really good. That dam dog was in the last one and even got a bit off on the giant Octopus.
2023-08-14 15:04:50
I loved the first movie. It was in my top 10. This movie is a sad excuse to be called "The Meg". The CGI for the kraken was poor and felt rushed. The plot made no sense and so much happened at once sometimes it was hard to interpret. I wouldn't recommend.
2023-08-08 15:49:41
Jonas is the man 😂 and that's right DJ train to fight and swim for this shit good movie tho thanks for uploading it chowww Danger Zone