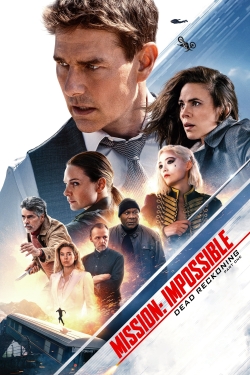 Mission: Impossible - Dead Reckoning Part One - 
2023
2023-07-08
Ethan Hunt and his IMF team embark on their most dangerous mission yet: To track down a terrifying new weapon that threatens all of humanity before it falls into the wrong hands. With control of the future and the fate of the world at stake, and dark forces from Ethan's past closing in, a deadly race around the globe begins. Confronted by a mysterious, all-powerful enemy, Ethan is forced to consider that nothing can matter more than his mission – not even the lives of those he cares about most.
Actors:
Reviews
2023-07-12 06:05:35
Great movie. Yes bad picture but free. Hard to believe Tom is 61. Better stop doing his own stunts or he will end up like Christopher Reeve. No one wants that.
2023-07-12 10:14:29
IT TELLS YOU DUM MFS ADS CAUSE ITS CAM BITCH STOP CRYING AND WATCH THA FUCKING MOVIE CUZZ
2023-07-12 06:48:55
Your Mission if you accept it. Is to watch this movie for Free.
2023-07-12 05:52:51
not bad for a bootlegged movie the quality,I'll leave a review of the movie when it's finished it's kinda of long almost 2 and1/2 hours
2023-07-14 14:04:47
Elsa is the "Entity" this movie was garbage. I'm a fan of MIP movies, but for a movie that has 2 parts it sucked ass. Zero imagination, zero wow factor and ZERO interest in seeing part 2. if you don't agree then tell me your favorite part of this movie 🤔. I'll stop you now....
2023-07-16 13:11:25
Mayne listen this man this movie been trying to tell y'all from the jump ever since the first mission impossible just like Total recall they've been using masks since FX remember
2023-07-16 03:31:40
THIS IS HOW HE GET THE BIG BUCKS YOU WANT SOMETHING DONE RIGHT YOU HAVE TO DO IT YOURSELF
2023-07-12 09:03:18
I have premium and still adds are there what Is going on guys