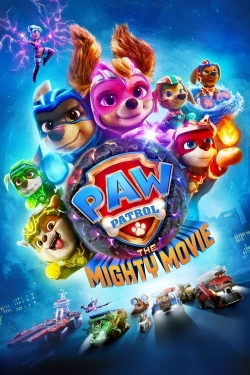 PAW Patrol: The Mighty Movie - 
2023
2023-09-21
A magical meteor crash-lands in Adventure City, gives the PAW Patrol pups superpowers, and transforms them into The Mighty Pups. When the Patrol's archrival Humdinger breaks out of jail and teams up with mad scientist Victoria Vance to steal the powers for themselves, the Mighty Pups must save Adventure City and stop the supervillains before it's too late.
Genre:
Actors:
Reviews
2023-11-02 04:02:42
So now it plays but it's not in English!! Can I get a free month rental?! Cause this militant 4 year old is PISSED!! Witch means a headache and a drink for me!
2023-11-03 10:12:57
My daughter has been waiting to see this for sooo long, and when it's on here, it's in Spanish only come on.. I think everyone who is asking for it in English should get something..weather it be a free month or whatever, I'm just saying.. ridiculous
2023-11-01 19:40:19
y'all always with this stupid shit where the one in English we don't speak fucking Spanish df
2023-11-05 22:54:35
For all of you threatening to sue and cursing him out. How stupid you must be to sue an app you'r using to illegally watch movies. if you have such a pproblem,getoff your broke ass and rent it or go to the theater and see it. Otherwise, sit back, watch it, and enjoy the graphics
2023-11-03 09:24:12
my son's been waiting since the moment it was out and now it's not English. aaaaahhhh he's so sad. thanks.
2023-11-02 10:18:05
the fuck it in Spanish for I speak English not Spanish the fuck🤬🤬🤬🤬
2023-11-03 03:36:01
I promise if I could afford the $19.99 on Amazon I would rent it then upload it for ERRRBODY!!
2023-11-08 05:28:52
the entitlement of people who use a pirate app. can you imagine being pissed about shit not working correctly right away? this app is illegal people. Get over it and give them time to sort shit out. grown ass adults no less, hilarious. what's gonna happen when they pull this app?