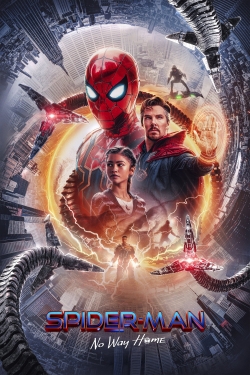 Spider-Man: No Way Home - 
2021
2021-12-15
With Spider-Man's identity now revealed, Peter asks Doctor Strange for help. When a spell goes wrong, dangerous foes from other worlds start to appear, forcing Peter to discover what it truly means to be Spider-Man.
Genre:
Actors:
Reviews
2022-06-20 08:00:00
An absolute banger of a Spider-Man movie. Hard to tell if it's better than the excellence of Spider-verse, but very much brings the entirety of the live action Spider-Man films to fruition. Loved so much in this film that would have sounded silly on paper but worked SO well on screen.
2022-06-13 08:00:00
What an awesome way to close the spider man trilogies. The way this movie was conceptualized is breathtaking. I can imagien the hours that the writers burned just to tie everything together. I love Tom Holland, but Andrew Garfield stole the show! Love you Tobey, but Andrew is sooo hot!
2022-08-11 09:54:49
Tobey's entry in this film literally gave me tears badly ?. Last time I saw him in 2007 when I was 7 years old. Today after 14 years my childhood hero is back. Really feels like a dream.
2022-11-27 22:43:40
💯💯💯💯💯💯💯💯💯💯💯💯💯💯💯💢💢💢💢💢💢💢💢💯💯💯💯💯💯💯💯💯💯💯💯💯💯💯💯💯💯💯💯💯💯💯💯💯💯💯💯💯💯💯💯💯💯💯💯💯💯💯💯💯💯💢💢💢💢💢💯💢💯❤❤❤❤❤❤❤❤❤❤❤❤❤❤❤❤❤❤❤🧡❤❤🧡🧡🧡🧡🧡🧡💔❤💕💕💕💕💕💕💟💟💟💟💟💕💕💕💕💟💖💖💖💖💖💖💖💖💖💖💖💖
2022-06-16 08:00:00
As always I liked it from the beginning as this is a spider man movie; then after a while it became fantastic when all 3 of them came to work on the same screen.There was nothing one can find fault about it.Loved it with my whole spidey heart.
2022-09-04 11:41:57
i loved this film it was awesome and full of incredible cameos
2023-11-23 03:36:20
I can't wait for a new venom movie lol
2022-06-18 08:00:00
Spider-Man is one the best movies of my childhood. And seeing all three characters in one movie is the best gift for all the fans.I thought it was just rumors, but very thankful that they made it happen.