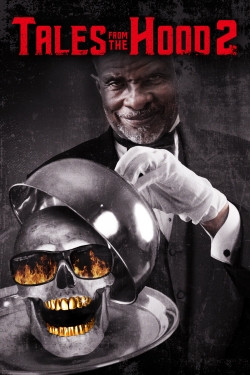 Tales from the Hood 2 - 
2018
2018-07-13
Mr. Simms contributes to tell more spooky, unsettling tales involving dolls, psychics, possession and ghosts.
Genre:
Actors:
Reviews
2023-01-21 11:45:52
There's so many of those scammers physics out there can't believe ppl really believe most of them ppl they're bullshit scam artists there are a few REAL PHYSICS OUT THERE, BUT unfortunately there are fake ones then REAL!! 💯💯
2023-01-21 11:35:31
YOOO Dude in the 2nd story 👀 are bugged TF out!! he look like a crazy fuck!! fr fr 💯💯🤣🤣
2023-01-21 11:22:03
🛑 DON'T EVER DO WHAT SHE IS DOING, OPENING A LOCKED UP HAUNTED DOLL & THEN TOUCHING IT & BRINGING IT HOME IN THIS STEALING IT, YOU DON'T UNDERSTAND WHAT YOU'RE FUCKIN WITH DON'T DO IT!!💯🛑🛑
2023-01-21 11:56:23
the fake physic really being possessed by all the ppl they killed AWESOME PLOT TWIST
2023-01-21 11:05:40
the first tales from the hood was good hopefully this was is just as good if not better!
2023-11-14 09:40:10
This movie is even better than the first!! Wow I'm watching the next one(3) next!! I love horror movies Real shit!! I loved the sacrifice!!! Im white 🤍 and I can't see how white people even do that! The girl who caused emmit till death just died hope she burns with em all!!
2022-12-16 09:24:32
love the massage wish others had the eyes to see
2022-11-19 10:28:08
this movie is crazy