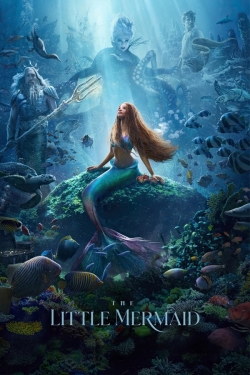 The Little Mermaid - 
2023
2023-05-24
The youngest of King Triton's daughters, and the most defiant, Ariel longs to find out more about the world beyond the sea, and while visiting the surface, falls for the dashing Prince Eric. With mermaids forbidden to interact with humans, Ariel makes a deal with the evil sea witch, Ursula, which gives her a chance to experience life on land, but ultimately places her life – and her father's crown – in jeopardy.
Genre:
Actors:
Reviews
2023-05-28 11:16:32
NOBODY HAS TO BE RACIST FOR A MOVIE TO BE FUCKED UP TIRED OF HEARING THAT RACIST SHIT GET A LONG I KNOW THIS IS A MOVIE BUT THE COMMENTS ABOUT RACISM SERIOUS RIDICULOUS EVERYBODY'S BLOOD IS RED JUST LIKE JESUS AND GOD THAT'S WHO Y'ALL REALLY NEED TO BE TALKING TO SMH SHAME
2023-05-28 00:54:51
I'm starting to think that this is a conspiracy this is crazy out of all the movies this movie doesn't play are you guys really that racist that you're that upset about a young black woman being a Disney princess please get it together or I will cause a boycott for your app
2023-05-24 12:57:39
they need to get off the bus and fix this movie I didn't pay for a full year subscription for nothing I would appreciate it if you fix it thank you
2023-05-28 15:47:37
I've actually seen this working several times. I don't understand how this became about racism. maybe it's just an app that's fucked up cause it's releasing movies illegally, anyone think that may be why it's like that?!?!? I mean come on now people.
2023-05-30 06:20:19
omg so good .. loved It.. I'm so glad it incorporated all the 🧜‍♀️ 🧜🏽‍♂️ people representing everyone of us .. all kids can see a version of themselves in this movie. WELL DONE DISNEY 👏🏼 ✔
2023-05-28 21:43:28
everyone needs to calm down. it always takes a few days for them to get a copy worth watching. if you don't wanna wait then go to the movies or stfu
2023-05-28 11:19:57
EVERYBODY DOESN'T HAVE TO PLAY A WHITE MERMAID OR A BLACK MERMAID IM NOT RACIST DON'T JUDGE ANYBODY BUT THAT RACIST SHIT IS OLD LIKE 1800'S OLD EVERYONE NEEDS TO GET ALONG
2023-05-29 12:59:09
The movie just came out yall..... I'm sure they are just having some kinda issue with uploading it.... I'm black in I don't think it's a race issue. This was the samething happening when they had the cam version of John wick 4. Give it a few more days. Stop the race stuff !