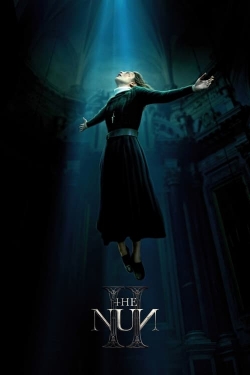 2023-09-06
Set four years after the ending of the the nun, this follows Sister Irene as she investigates a murder at a boarding school in France. While investigating she is once again forced to face the demonic force Valak, the Nun.
Actors:
Reviews
2023-09-11 03:43:32
for some of u ppl that don't know, if u watch a movie that the quality comes out like this, it means it's being recorded a movie theater. don't blame the app or the movie itself. it's a person recording it. ur welcome.
2023-09-10 07:48:52
I rate it a 3 out of 10 because I like the Conjuring franchise, also movie wasn't scary , picture was dark , I think it was poorly filmed , and it didn't keep you into the movie , come to think of it it was rather boring, but scary , NO
2023-09-11 13:57:26
I paid for no ads yet I'm still getting multiple pop ups for some slots game. That's an ad. Why? The website address stays on the screen and moves around. It's so annoying. So, really, I'm getting ads. Except the movie doesn't stop. Why am I paying for then?
2023-09-11 14:06:05
another movie where you have to watch 3/4 of the movie to finally get to anything interesting. I found the first one boring, but hoped the second one would be better. I was wrong. they both sucked.
2023-09-10 01:13:52
this was such a good movie I love it so much
2023-09-17 01:23:02
yes the movie was good even though it was recorded in the theater I can't complain and some of yall act like yall some fucking screen writers please give the movie some credit if you think you could have done better than write your own fucking movie dickwads .
2023-09-09 19:20:10
yesss I love this app
2023-09-15 15:31:51
this joint was iight, I watched it I knew it was a bootleg but you can wait till they cleared up put it on HD or you can take your ass to the movies and pay for it