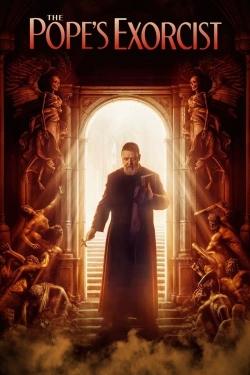 The Pope's Exorcist - 
2023
2023-04-05
Father Gabriele Amorth, Chief Exorcist of the Vatican, investigates a young boy's terrifying possession and ends up uncovering a centuries-old conspiracy the Vatican has desperately tried to keep hidden.
Actors:
Reviews
2023-04-13 10:26:14
sorry to tell you but there's no need for a pope. when Jesus died on the cross it gave us all a right to the tree of life. and a personal relationship with Christ. Mary can't help you or save you. Jesus is the only name under heaven that men can be saved.
2023-04-11 19:10:53
it could have been way better, things really don't pop off until the End.. kinda disappointed!! It was ok, I expected more.. let's hope Evildead Rise is Better.. if it's anything like the last evildead it'll be Great...
2023-04-12 22:16:31
great movie...I'd take possession, ghost, and outbreak horror movies over blood and guts slasher films any day of the week. I was definitely not disappointed at all with this movie
2023-04-15 22:18:41
not bad actually one of the better Exorcist movies I've seen in a long time even better than the original exorcist but jesus christ will always be my God and king forevermore Amen to that
2023-04-10 13:23:10
good cam, good movie. it's shitty you can hear the guy breathing that recorded it. Heavy on the nose breath
2023-04-16 21:36:27
Done with entertainment as the impetus not making it completely about evil. The exorcist, amityville,the beast within....all movies that went all the way in to express evil. Enjoyed the nature of this movie... the Most High always wins!!
2023-04-12 08:09:55
So even though parts were in Spanish including the subtitles..this was awesome. You don't see too many multiple possessions in a movie. Definitely give this an 8 1/2 outta 10
2023-04-12 09:09:51
good movie will watch it again for just the subtitles to hear in English God winning over the devil is always a beautiful