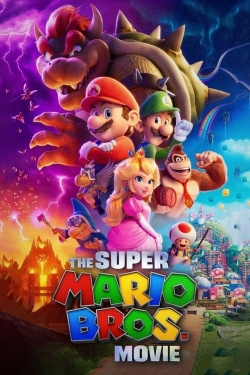 The Super Mario Bros. Movie - 
2023
2023-04-05
While working underground to fix a water main, Brooklyn plumbers—and brothers—Mario and Luigi are transported down a mysterious pipe and wander into a magical new world. But when the brothers are separated, Mario embarks on an epic quest to find Luigi.
Genre:
Actors:
Reviews
2023-04-10 07:42:35
Coolest movie ever... I love the voice acting and the movie animators who worked so hard on this movie! I love the movie so much it reminds me of the switch games I have [
2023-04-09 14:19:08
Anybody else grown as hell watching this???
2023-04-10 15:14:09
8/10. Very good film which was accurate to the video game mechanics. Decent storyline. The show did seem to be a little rushed and the film could have been longer so as to explore more aspects of the game mechanics. Overall if you play the Mario franchise, I would recommend.
2023-04-11 05:36:14
What the hell you mean fuck Mario!? Some of us grew up on Mario. Don't hate just because you are confused just like the rest of the world in what LGBTQIA is because even knowing the term is a surface of a volcano not able to be understood
2023-04-09 23:19:23
Not all movies need to have a message. Sometimes a movie just needs to be fun.
2023-05-17 07:44:59
ONLY PEOPLE THAT HAD THE OG NINTENDO DS CAN LIKE THIS COMMENT😏💯
2023-04-10 05:02:06
Now that Is a great movie, I loved it, made me laugh and I looked forward to watching it until it was over. Definitely 5 ⭐️
2023-06-26 01:19:48
ℙ𝔼𝔸ℂℍ𝔼𝕊 ℙ𝔼𝔸ℂℍ𝔼𝕊 ℙ𝔼𝔸ℂℍ𝔼𝕊 ℙ𝔼𝔸ℂℍ𝔼𝕊 ℙ𝔼𝔸ℂℍ𝔼𝕊 𝕀 𝕃𝕆𝕆𝕆𝕆𝕆𝕍𝔼 𝕐𝕆𝕆𝕆𝕆𝕆𝕌𝕌𝕌𝕌 𝕆ℍℍℍℍ ℙ𝔼𝔸ℂℍ𝔼𝕊 ℙ𝔼𝔸ℂℍ𝔼𝕊 ℙ𝔼𝔼𝔼𝔼𝔼𝔸𝔸𝔸𝔸𝔸ℂℍ ℙ𝔼𝔼𝔼𝔼𝔸𝔸ℂℍ 𝕃𝕠𝕝 𝕥𝕙𝕒𝕥 𝕨𝕒𝕤 𝕞𝕪 𝕗𝕒𝕧𝕖 𝕡𝕒𝕣𝕥 𝕠𝕗 𝕒𝕝𝕝 𝕠𝕗 𝕥𝕙𝕖 𝕞𝕠𝕚𝕧