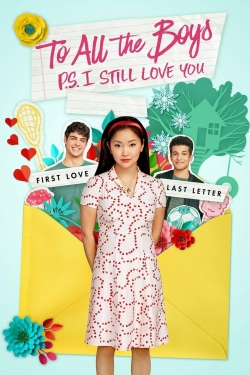 To All the Boys: P.S. I Still Love You - 
2020
2020-02-12
Lara Jean and Peter have just taken their romance from pretend to officially real when another recipient of one of her love letters enters the picture.
Actors:
Reviews
2023-01-29 00:27:17
omg I can't believe that letter was waiting for Jenn to go to the hot tub I felt so bad for largine 🥺
2023-06-04 08:09:50
I love this movie so much I really hope that like they get to make a cameo in EXO Kitty
2023-08-31 10:31:23
bro when I first saw this movie inew it was gonna be good the little sister played in liv and maddy and also the boy that helped her get up then maddy Ziegler then the boy who played with zendaya in that one show all the famous people I'm in love
2023-07-12 16:10:10
not the girl from babysitters club
2022-09-25 00:51:08
join Hugo link
2023-11-25 10:07:19
this is the craft room and the knitting club why would you form a club over something you could do alone I don't know
2023-11-25 10:06:26
that's the game room a bunch of sore losers they won't even let me play with them a bunch of communist the old guy "communist"
2023-04-28 09:13:09
Maddie Ziegler!!!