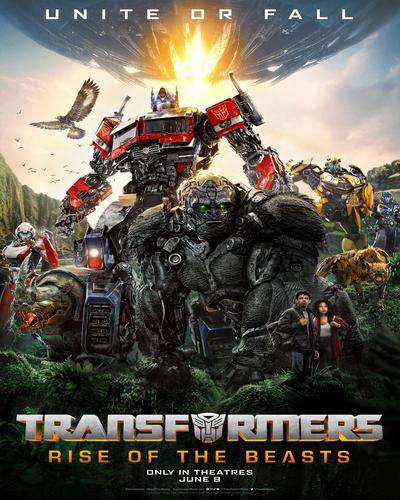 Transformers: Rise of the Beasts - 
2023
2023-06-07
A '90s globetrotting adventure that introduces the Maximals, Predacons, and Terrorcons to the existing battle on earth between Autobots and Decepticons.
Actors:
Reviews
2023-06-09 23:30:41
hell yeah I've been waiting for that to happen the GI joes and transformers teaming up one world of powers unite under one banner I just hope Cobra's ass doesn't team up with the enemy cuz that'll be a good ass movie Cobra Commander teaming up with none other than the big ass wor
2023-06-12 08:11:09
well for those of us who can keep up,If u have watched all of Transformer Movies in almost everyone they do a memory of how they began,how they got here ,and about the destruction of theirs and our worlds in time lapses, we here who are true fans know exactly WTF is going on lol
2023-06-09 22:52:58
this is the hottest movie in town bumblebee is back taking some ass yeah this movie is too hot yo too hot it's on fire
2023-06-06 20:52:03
that's because it's not making any sense whatever happened to unicron it keeps jumping around theres too many transformers too many characters but I guess they cant make up there minds
2023-06-10 07:09:50
I AM SOOOOOOO DISAPPOINTED WITH THIS TRANSFORMERSS!! I AM A TRUE FAN AND WAS VERY EXCITED ABOUT SEEING IT! UNBELIEVABLE THIS VERY MUCH GENERIC AND GARBAGE! IM BIG MAD!
2023-06-10 13:27:22
they totally neglected the autobots, unicron and beast wars history between cybertron. very disappointed. they keep making these movies, but there all on and about earth... that's just one tiny lil piece. comics and animations got it covered
2023-06-10 00:26:05
it wasn't as good as I anticipated but still good .Great video for being cam best I've seen yet on this app thanks
2023-06-12 08:18:26
And to add to that comment, we are not disappointed in the franchise, because get to see how it evolves, and learn something new about each individual Bot's special and unique capabilities and how we would love to have a bumble bee car of our fucking own to protect us 🖕🤟💯💥😉