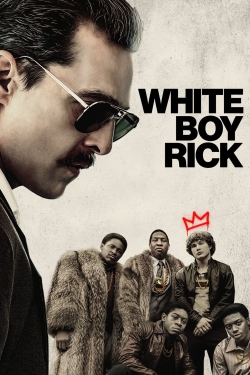 2018-09-14
The story of teen ager, Richard Wershe Jr., who became an undercover informant for the police during the 1980s and was ultimately arrested for drug-trafficking and sentenced to life in prison.
Actors:
Reviews
2022-11-25 16:49:16
SMH!!! 30 YEARS FOR HELPING BRING DOWN DIRTY COPS AN DRUG DEALERS??? COPS must've had powerful friends an fam!!
2023-04-06 16:33:40
This is just one of those dam that's fukkd up cases, because shyt like this happens in all hoods. What's the code, never trust no one. Not even the fukkn pigs. Sad story though..!
2023-05-19 12:19:52
this is a good movie I would love to meet the real people that this happened to but that's sad being locked up for helping cops and they don't even do anything to get him out he was probably in there for abought 23 years and his daughter probably barley knows him
2023-09-25 08:47:07
Yeah, everyone can say oh that's so fucked up but they forget, when you get in that world you got to accept any senario that can possibly go with it. And that's ----- that. And it was an ok movie. It's story was told a million times already .
2023-01-12 19:41:00
you never had it well he's a stupid one to believe the cops and don't have nothing on paper come on amateur
2023-06-10 02:19:39
THE FEDS AND THE COPS BENT THAT POOR KID OVER AND DIDN'T EVEN USE NO VASELINE. THAT'S HOW BAD THEY FUCKED HIM. SO SAD. GREAT MOVIE THO.
2023-07-09 23:31:19
this is so fuqqed up in so many levels what was done to this young ass boy because he was Baby when all this happened you can't trust anyone.but this is beyond fuqqed up what they did to him he did the feds jobs and look how it ended up
2023-09-15 16:39:10
SMH if this right here don't show you not to snitch and how low life the law is than I don't know what will lol